Description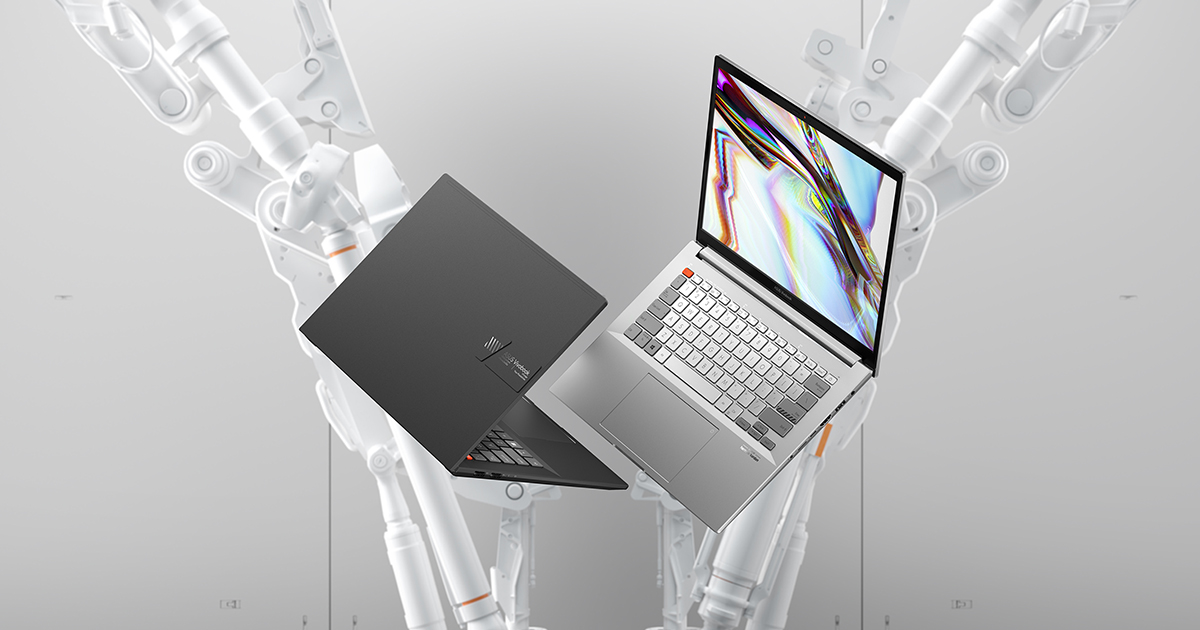 Ignite your creativity
Ignite your creativity with Vivobook Pro 14X OLED, the uncompromising powerhouse for discovering your potential and exploring the future. Vivobook Pro 14X OLED brings you the speed and accuracy you need to realize your vision, with a 14-inch NanoEdge 2.8K OLED1 display, 11th Generation Intel® H Series CPU, and NVIDIA® GeForce RTX™ 3050 graphics. The exclusive ASUS DialPad gives you precise and intuitive control of your creative tools, and the dual-fan cooling design lets you work in undisturbed peace. Vivobook Pro 14X OLED unlocks the door to your creative future.
---
Power to create
Your journey of discovery starts here, with Vivobook Pro 14X OLED to power your exploration. Whatever your creative workload — scenes or spreadsheets, documents or designs — the latest 11th Gen Intel® H Series CPU and NVIDIA® GeForce® RTX™ 3050 graphics give you the fastest performance in an ultrathin laptop. With up to 16 GB memory and a 1 TB PCIe® SSD, you're ready for anything, whether it's high-pressure multitasking, tough multimedia editing, or just some laid-back gaming.
---
Amaze your vision
Get your eyes ready for the 2.8K OLED NanoEdge display on Vivobook Pro 14X OLED. It's a viewing experience beyond compare, with a super-bright 600-nit panel, ultrahigh contrast ratio, and ultraslim bezels that give it an 86% screen-to-body ratio. The ultrawide 100% DCI-P3 color gamut ensures vivid colors and it's also PANTONE® Validated for professional-grade color accuracy. TÜV Rheinland certification for low blue-light emissions makes it easy on your eyes, too. Everything's clearer and brighter on Vivobook Pro 14X OLED.
---
Eye care, even more critical 
for children
Since children's eyes are not fully developed, with a more transparent lens and cornea, harmful blue light can penetrate the eye more easily, potentially causing premature aging of the retina. Research5 has shown that in a five-year-old child's eyes, approximately 60% of the received blue-light emissions pass through to the retina, compared to only around 20% for a 60-year-old adult. With ASUS OLED displays, the significantly lower blue light levels mean better eye care for children.
---
OLED has much higher perceptual brightness
On conventional LCD displays, detail and color quality usually decrease dramatically as the brightness is reduced. But ASUS OLED laptops are able to show great detail at lower brightness settings due to their high contrast and their ability to maintain a wide color gamut at low brightness. ASUS OLED laptops can maintain good color reproduction at any brightness level, so you can freely adjust the screen's brightness to suit your working environment, while still enjoying exceptionally vivid colors. For example, in the living room environment (usually illuminated at about 100 lux), you only need 177 nits brightness in an OLED display to produce the same clear image as 400 nits brightness in an LCD display. At the lower brightness levels needed on OLED displays, there's less harmful blue light emitted.
---
Fastest response time on any laptop for motion clarity
For a display, response time is the time taken to replace one color with another: the faster the time, the better motion is reproduced. The diagram below shows a color transition from purple to blue. On an ASUS OLED, this transition takes only 0.2 milliseconds, while on an LCD, it might take 10 ms or longer. This makes a lot of difference, since OLED colors and images look correct for most of the time a frame is displayed, whereas LCD images may be blurry during the transition process.
ASUS OLED displays have a 0.2 ms response time – the fastest of any laptop, and 50x faster7 than the average laptop LCD display. This ensures smoother fast-paced action scenes, low-latency gameplay, and subtle details like blur-free text scrolling. In effect, the smooth visuals on an OLED display can rival those on an LCD display with a much higher refresh rate.