Kreativitas. Gaya. Inovasi. Ini adalah kualitas yang menentukan new ZenBook 14 yang elegan. Segala sesuatu dalam mahakarya ini – it's the world's smallest 14-inch laptops* – dirancang untuk memberi Anda kebebasan untuk menemukan sisi Anda yang paling kreatif, termasuk layar NanoEdge yang seperti tanpa bingkai yang menakjubkan. Anda tidak hanya akan menghargai kekuatan luar biasa di dalam dan perhatian terhadap detail – seperti engsel ErgoLift eksklusif dan keypad Numeric – tetapi juga keindahan abadi dari desain, dengan sentuhan Royal Blue atau Icicle Silver yang sensasional yang ditingkatkan oleh warna new Rose Gold. ZenBook 14 seakan menunggu: apakah Anda siap untuk melepaskan seluruh kreatifitas Anda?
Design
The most compact design ever
ZenBook 14 menandai era baru desain ultraportable, dengan chassis ultracompact, ultralight. Dilengkapi layar NanoEdge dengan 4-sisi, ZenBook 14 adalah salah satu laptop 14-inci terkecil di dunia dan 13% lebih kecil dari generasi sebelumnya, ZenBook 14 (UX430).
NanoEdge Display
Unbounded beauty
Dirancang untuk memberi Anda area layar terbanyak dalam ruang fisik paling sedikit, desain NanoEdge empat sisi tanpa bingkai dari ZenBook 14 cukup memukau: membuat visual apa pun menjadi lebih mendalam, dengan sedikit gangguan untuk mata Anda. Ultraslim bezels1 hanya setipis 2.9mm di bagian samping, 3.3mm di bagian bawah dan hanya 6.1mm di bagian atas untuk mengakomodasi kamera. Efeknya benar-benar menakjubkan – seperti kolam tanpa batas untuk mata Anda! Dan dengan layar ultra-kompak ini, ZenBook 14 hanya seukuran lembar A4 – lebih kecil dari banyak laptop 13,3 inci.

Display
Spectacular visuals
Kreativitas menuntut layar yang hebat, oleh karena itulah ZenBook 14 memiliki tampilan layar beresolusi tinggi yang tajam dan jernih untuk menampilkan visual terbaik, dengan sudut pandang yang luas dan terang dengan warna yang akurat.Serta juga dilengkapi dengan fitur ekslusif teknologi ASUS Splendid dan ASUS Tru2Live Video – yang mengoptimalkan parameter layar untuk memastikan kenyamanan mata pengguna dan performa warna untuk konten apapun.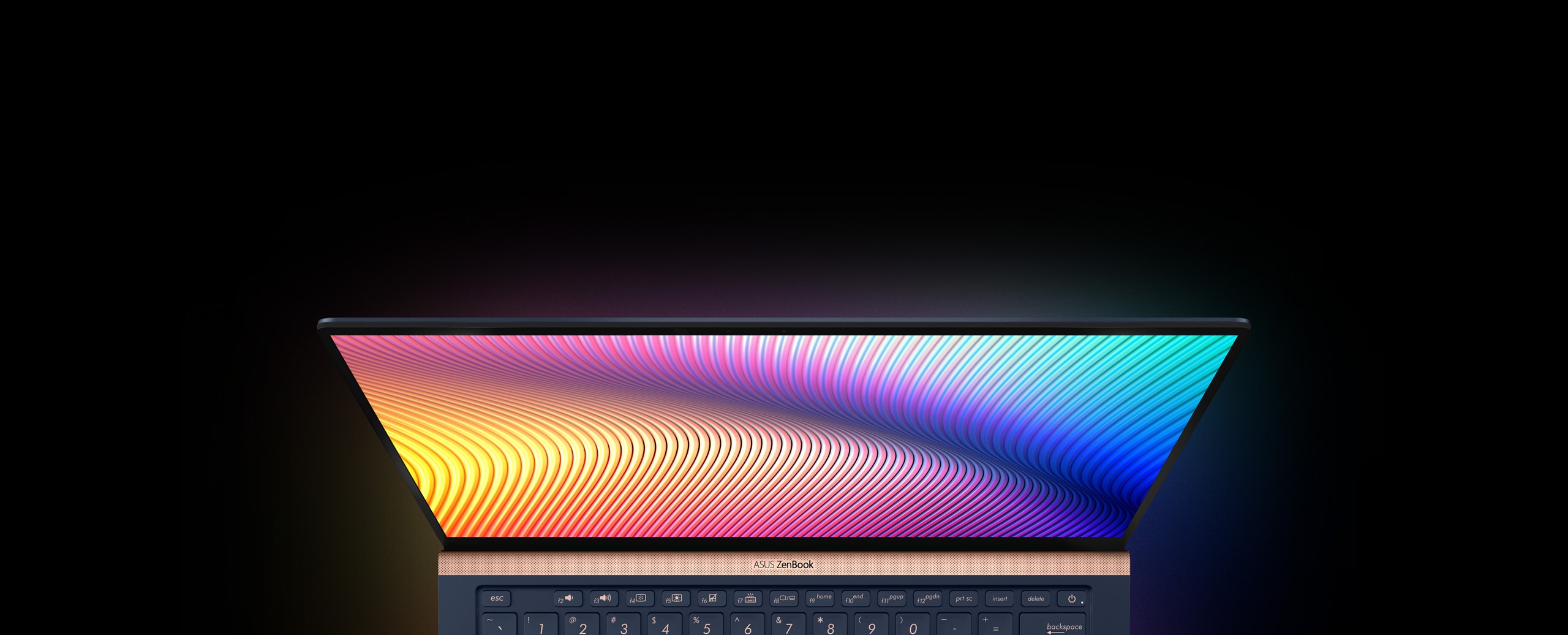 ErgoLift Hinge
Designed with you 
in mind
Dengan ZenBook apa pun, kenyamanan Anda adalah salah satu prioritas utama kami. ZenBook 14 bekerja ekstra dengan engsel ErgoLift eksklusifnya, sebuah mahakarya rekayasa yang dirancang untuk secara otomatis memiringkan keyboard ke posisi mengetik yang paling nyaman. Tidak hanya itu: kemiringan yang diperhitungkan dengan cermat meningkatkan kinerja pendinginan dan audio juga.