ROG helped define the dark aesthetic that has become synonymous with PC gaming hardware. The Original Black motifs worn by our latest laptops echo that history across forward-looking designs with a unique flavor all their own. They appeal to hardcore gamers and can also blend into more professional settings, but as the gaming audience grows, so must our palette. Three laptops from the ROG Spring 2019 Collection are being refreshed with a new color option dubbed Glacier Blue.
While Original Black will never go out of style, this season's focus on ROG Intelligent Cooling inspired our designers to find a cool color to complement it. The result is a frosty shade that looks and feels brighter and lighter, bringing new energy to gaming laptops. Glacier Blue is coming with cooler weather later this year in the Zephyrus S GX502, Zephyrus M GU502, and Strix G G531 and G731.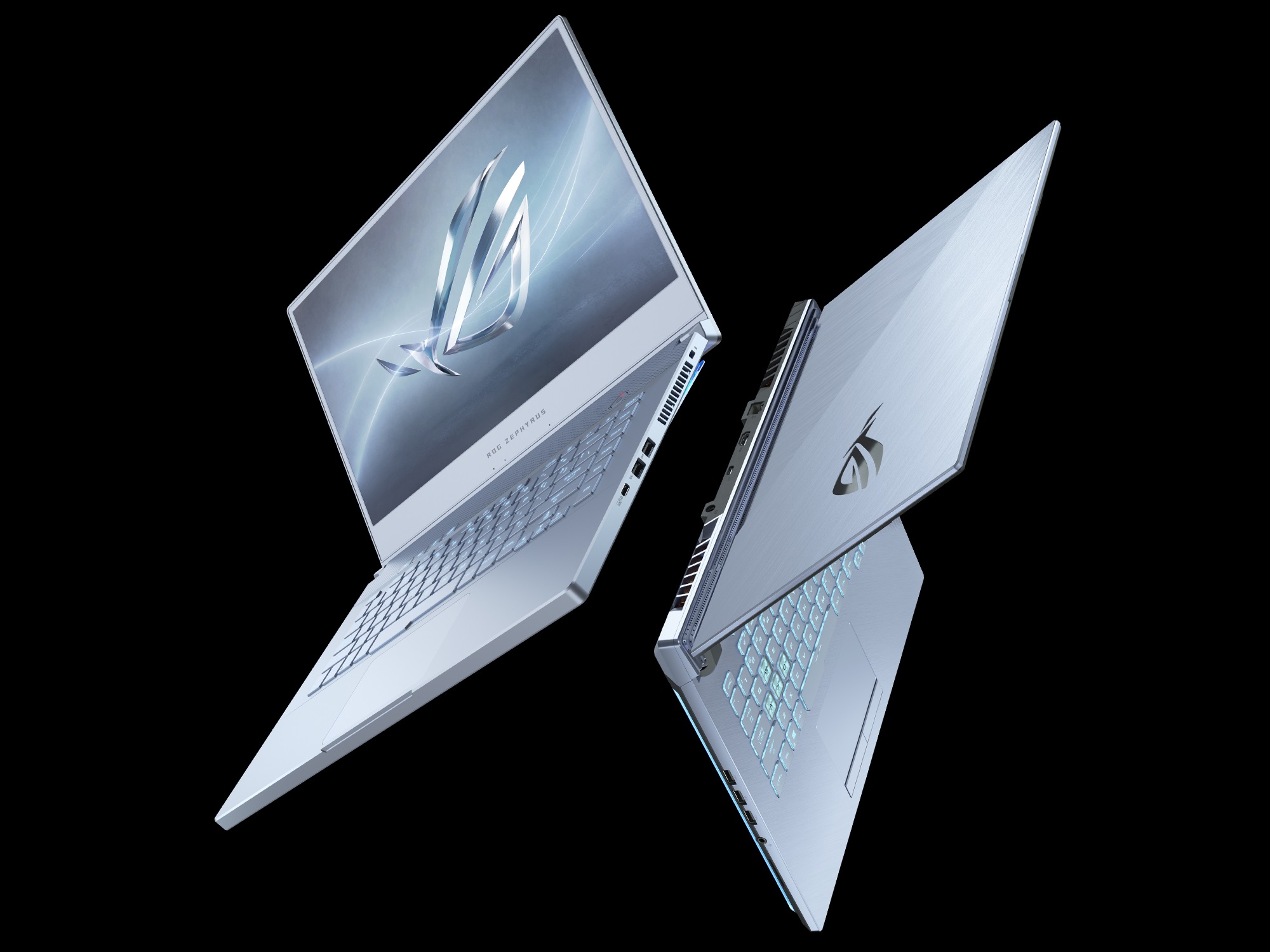 *Images shown are for illustration only. Final product may vary.
Creating a sense of cool
Coming up with a new laptop color is always daunting. Each proposed shade is scrutinized by countless eyes in multiple environments to accurately judge its appeal. Our designers gravitated toward lighter tones early in the process, wanting something that was radically different from our usual approach. Black dominated the landscape when gaming laptops were bigger and less suited for serious work like content creation, but they've become better travel companions and useful for a wider range of tasks, audiences, and locales.
Our preoccupation with cooling can be seen throughout the new lineup, from the innovative Active Aerodynamic System in Zephyrus S laptops to the heavily ventilated 3D Flow Zone in the new Strix series. It's no surprise the team narrowed in on colors that evoke a cooler feeling at first sight.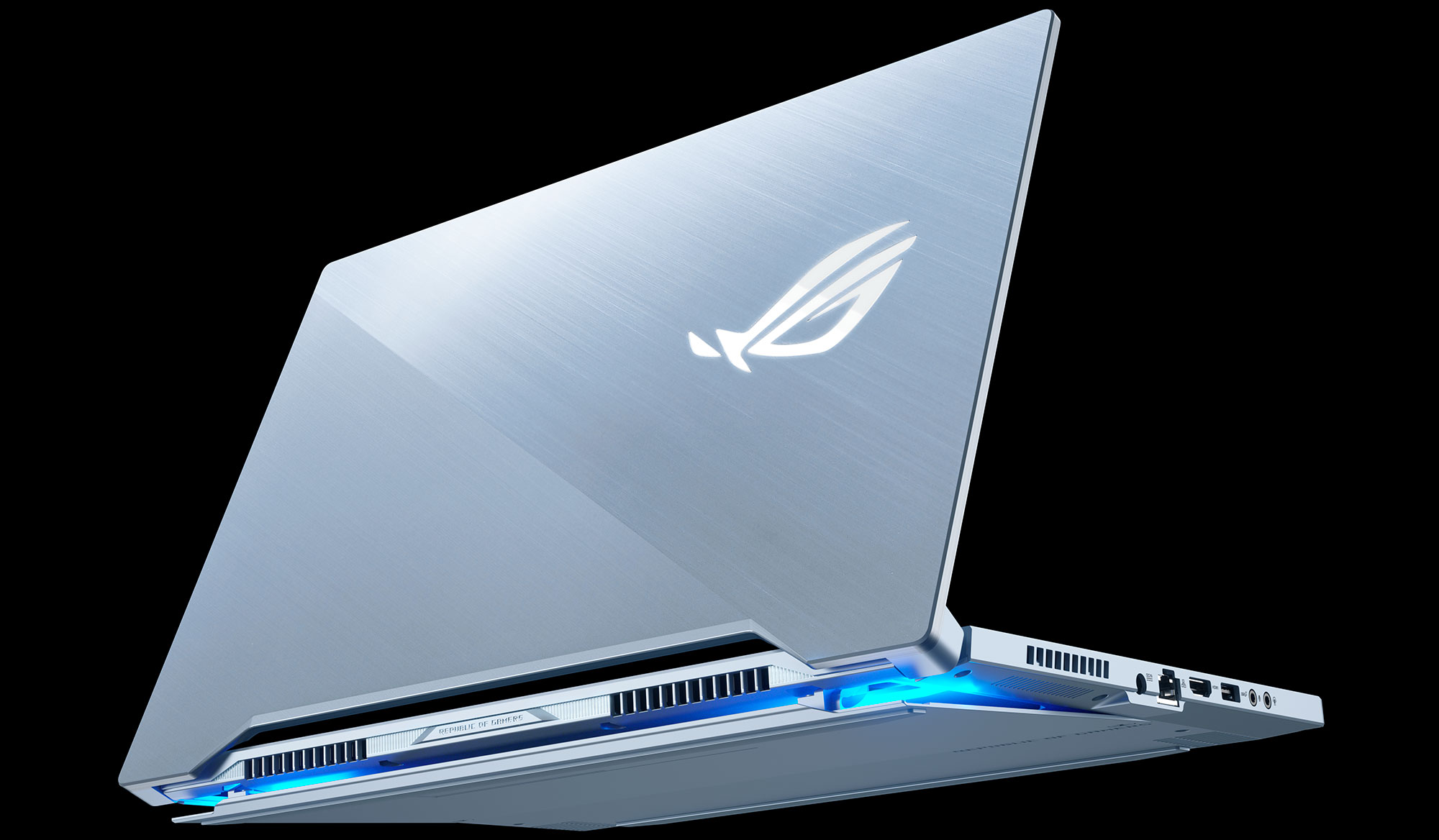 Lighter colors present challenges; paler palettes lack the stark contrast that black provides for customizable Aura Sync RGB lighting, for example. Gaming laptops are also formidable machines whose power should be reflected by their appearance. To retain a sense of boldness and hint at the hardware within, we passed over sleepier shades in favor of high-energy blues inspired by science fiction.
Glacier Blue unifies these concepts with a wintery look at first glance that becomes surprisingly saturated upon closer inspection. This specific shade has a slightly silvery sheen in the light, making it appear paler and more polished from a distance. The brighter appearance helps mask fingerprints and other blemishes while also blending in with more mainstream and professional laptops. Bolder blue tones jump out when you're up close or in darker environments, providing a shot of color along with more contrast for RGB lighting.
After finalizing the shade, we had to solve the puzzle of making it look uniform across the entire laptop. Some parts use different materials and surface treatments that can make colors appear different. Even painting requires more than just mixing the right ingredients; minor shifts in texture or temperature can cause painted colors to look different once they're dry. It takes tons of tiny tweaks and careful consideration to ensure that Glacier Blue looks its best on our machines.
Lightening up
The contrast between Original Black and Glacier Blue comes into strategically sharp relief in our Strix G G531 and G731 laptops, which combine strong cooling and performance with essential gaming features. Their two-tone designs put the lighter color on top and black on the bottom, which is visually slimming. The virtual shadow effect created by the darker base makes the Strix G look more svelte and streamlined. The display is also framed in black to minimize the appearance of bezels and draw more attention to what's on the screen.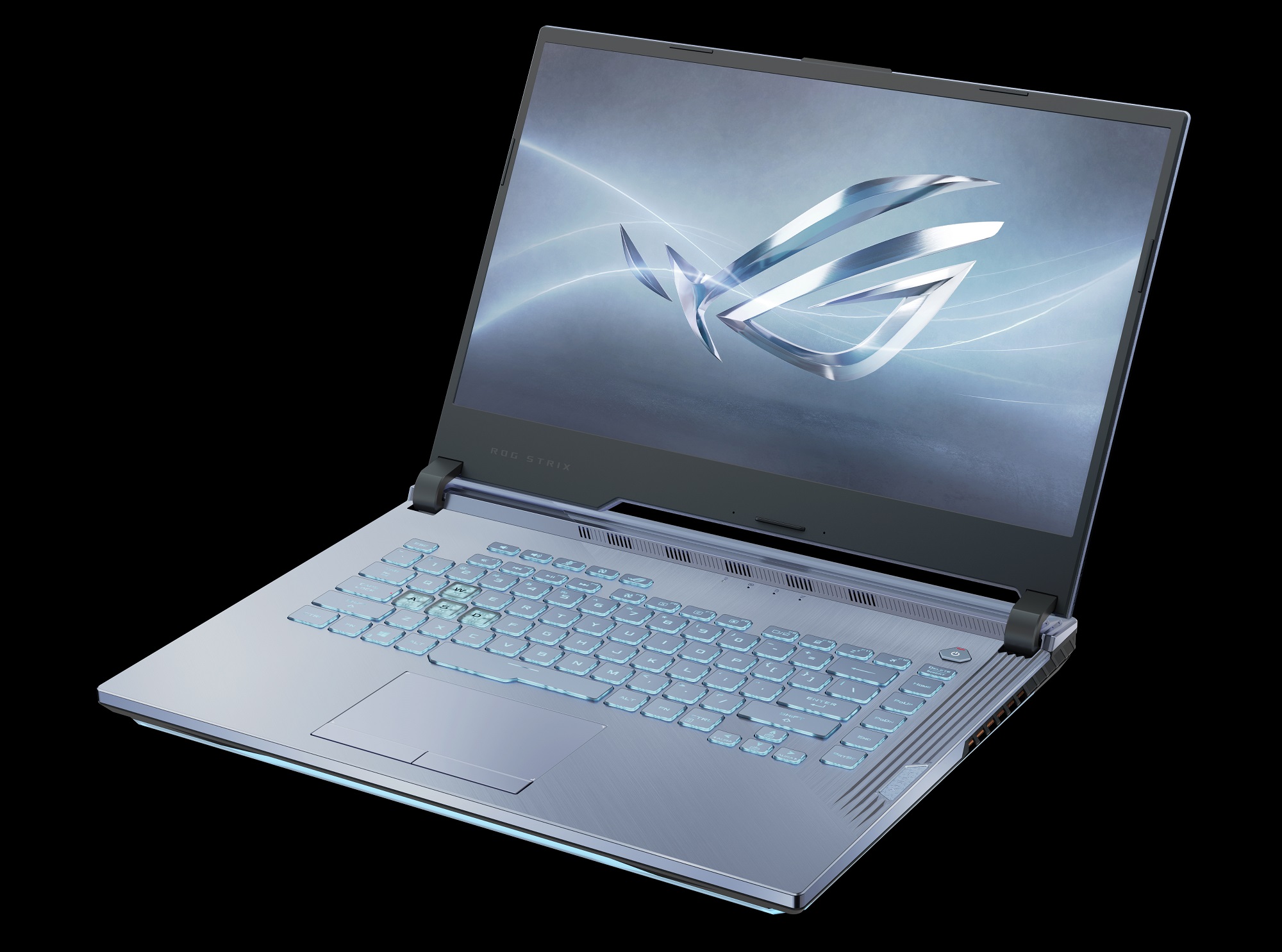 While some parts of the Strix G's body are simple enough to be covered by two coats of Glacier Blue paint, the uniquely sculpted surface of the Strix G is made from a special blend of resilient blue plastic. This bright blue base is further colored and coated with an IMR film to fully realize pigment's potential.
Our ultra-slim Zephyrus S GX502 and Zephyrus M GU502 laptops are Glacier Blue all over. Already incredibly thin from body to bezel, they don't reap additional benefits from pairing with black. Instead, the chilly blue permeates the chassis and underscores the lightness of the overall design. These machines use magnesium-aluminum alloy body parts to deliver high strength with low weight, and the pieces are carefully painted to just the right shade.
Blue skies ahead
Our new Glacier Blue gaming machines will be available starting in Q3. They offer the same hardcore performance and useful features as their blacked-out counterparts, this time dressed in a brighter color to help bring the Republic of Gamers to a wider audience that does more with their gaming laptops. There's a cool new configuration whether you're looking for an everyday gaming machine like the Strix G, or a portable powerhouse with professional aspirations like the Zephyrus S and Zephyrus M.